Search
Search our Catalogue
Search our Website
Contact
Ms Erlach
Tel.: (0202) 439-2730
Ms Böhnke
Tel.: (0202) 439-3977
Ms Böhm
Tel.: (0202) 439-2697
Contact by e-mail

Reference management software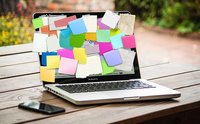 Typing references? Entering quotations by hand?

Break up with piles of paperwork! Better use a reference management software. Thus it is easy to quote correctly and to create reference lists automatically. Even with large amounts of literature, you can bring order to your book chaos and keep track of things.


Reference management with Citavi

Citavi is a reference management software and offers a wide range of functions in the areas of reference management and knowledge organization. Whether it's a term paper, bachelor's or master's thesis or dissertation, Citavi helps you write your scientific work - from research and citation to the finished manuscript.
Citavi is a Windows based software. It requires Windows 10, 8, or 7 to run, and in case you want to use Citavi on a Mac, please follow these instructions.
The University Library has acquired a site licence for Citavi. Students and employees of the University can use the full version of the software free of charge.